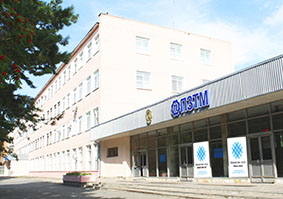 Joint stock company "Petropavlovsk plant of heavy machine building" is one of the leading machine building enterprises of Kazakhstan, owned by "National company "Kazakhstan engineering" JSC, concerning manufacturing of an equipment for oil-and-gas producing, oil-and-gas processing, petrochemical, chemical, gas, energetic, etc. industry branches on the base of modern technologies according to GOST, OST, STRK, ТЕМА, ASME & API standards with a glance to customer` wishes. It has multisectoral production capacity with all the technological redistributions necessary for different types of equipment manufacturing.
"PZTM" JSC has general licenses for all products. Since 2003 the enterprise has been certified by TÜV CERT company for compliance to the requirements of ISO 9001-2009 state standard & EN ISO 9001-2008 international standard.
In 2003 Quality Management System of "PZTM" JSC was certified by American Society of Mechanical Engineers (ASME) for compliance to international ASME Code requirements at the boilers and pressure vessels production and issued Certificate allows to make products with ASME stamp "U". In 2018, PZTM JSC successfully passed certification for compliance with the requirements of the ASME Code standard for "U" and "R" stamps.

Cooperation with English company "PFD" and Japanese corporation "JGC" allowed to take a big step in adoption of modern heat exchanging and tank equipment production. Realization of contracts with "JGC Corporation" (Atyrau Refinery plant reconstruction) and "PFD" Company ("Tengizchevroil" Second generation plant construction) allowed to reach the new quality level in designing and manufacturing of equipment according new international standards ASME, TEMA & API.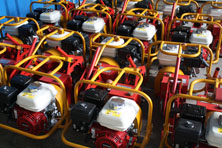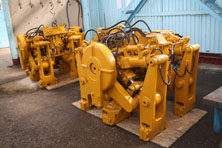 Since 1994 "PZTM" JSC produces equipment and rail tools for repair and maintenance of rail ways.
Since 2001 we cooperate with French company "Geismar". This company is one of the international leaders in producing of machines & equipment for construction and maintenance of rail ways. Such cooperation allowed to organise in short terms manufacture of new kinds of the equipment for repair and maintenance of rail ways complied with world standards.
The company possesses accreditation certificate for technical competence testing laboratory and accreditation certificate for calibration of measurement devices, that allows to test all the fabricated products on site.


Our enterprise delivers the equipment for development of oilfields, operation and drilling of oil and gas wells to the leading Kazakhstan and foreign enterprises: "Ozenmunaygaz" LLP, "Embamunaygaz" LLP, «Oil Services Company», "UTT&OS" LLP, "KazTransOil" JSC, "Karazhanbasmunay" JSC, "Kazakhturkmunay" LLP.
Our oil-and-gas refining equipment is successfully exploited by many oil producing and refinery companies of Kazakhstan, such as: "Atyrau refinery" LLP, joint-stock company «Pavlodar petrochemical factory» JSC, «Station the Ekibastuz GRES-2» JSC, «Kazakh gas-processing factory» JSC, «PetroKazakhstan Kumkol Resources» JSC, «PetroKazakhstan Oil Products» LLP, "Kazcink" JSC, "Corporation "Kazahmys" LLP and EP "Balkhashcvetmet", "KazTransOil" JSC, "Tengizchevroil" LLP, "Emir-Oil" LLP, etc.