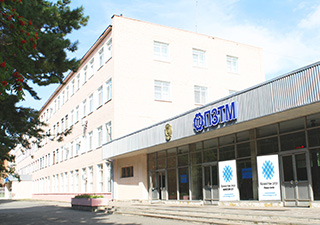 Joint stock company "Petropavlovsk Plant of Heavy Machine Building" is one of the leading machine building enterprises of Kazakhstan, owned by "National company "Kazakhstan engineering" JSC, concerning manufacturing of an equipment for oil-and-gas producing, oil-and-gas processing, petrochemical, chemical, gas, energetic, etc. industry branches on the base of modern technologies according to GOST, OST, STRK, ТЕМА, ASME & API standards with a glance to customer` wishes. It has multisectoral production capacity with all the technological redistributions necessary for different types of equipment manufacturing. As a former military - industrial complex enterprise, "PZTM" JSC keeps the best manner in discharged products quality.
"PZTM" JSC has general licenses for all products. Since 2003 the enterprise has been certified by TÜV CERT company for compliance to the requirements of ISO 9001-2009 state standard & EN ISO 9001-2008 international standard.
Since 2007 the oil-extracting equipment is certificated on industrial application in Russia.
Our enterprise delivers equipment for development of oilfields, operation and drilling of oil and gas wells to the leading Kazakhstan and foreign companies: "Ozenmunaygaz" JSC, "Embamunaygaz" JSC, "OzenMunayService" LLP, «Oil Services Company», "UTT&OS" LLP, "UBR" LLP, "TulparMunaiService" LLP, "KAzTransoil" LLT, etc.
Our oil-and-gas refining equipment is successfully exploited by many oil producing and refinery companies of Kazakhstan, such as: "Atyrau refinery" LLP, «Pavlodar petrochemical factory» JSC, «Kazakh gas-processing factory» JSC, "Tengizchevroil" LLP, "Emir-Oil" LLP, etc.
Energy boiler equipment supply has been developing as a part of cooperation with power generating companies of Kazakhstan such as «Station the Ekibastuz GRES-2» JSC, "Aktobe TEC" JSC, «Cental-Asian Energetic Power Corporation» JSC group companies, etc.
"PZTM" JSC Republic of Kazakhstan, 150009, Petropavlovsk, Y. Gashek passage, 1
Tel.: +7 (7152) 63-03-00, 63-03-01 Fax: +7 (7152) 42-55-30 E-mail: pztm@pztm.kz